Two people have died after a fire broke out at a BP refinery in Ohio on Tuesday, officials said.
Pictures posted on social media showed huge flames and a cloud of black smoke at the Husky Toledo refinery in Oregon City, just outside Toledo.
BP had earlier said two staff were injured in the fire on Tuesday night. A spokesman confirmed earlier Wednesday that two workers had died of their injuries.
"It is with deep sadness that we report that two bp employees who were injured in the bp Husky Toledo refinery fire have passed away," the spokesperson said. "Our thoughts are with the families and loved ones of these two individuals. "
They said all other workers were accounted for and an employee assistance team was on site to support workers affected by the incident.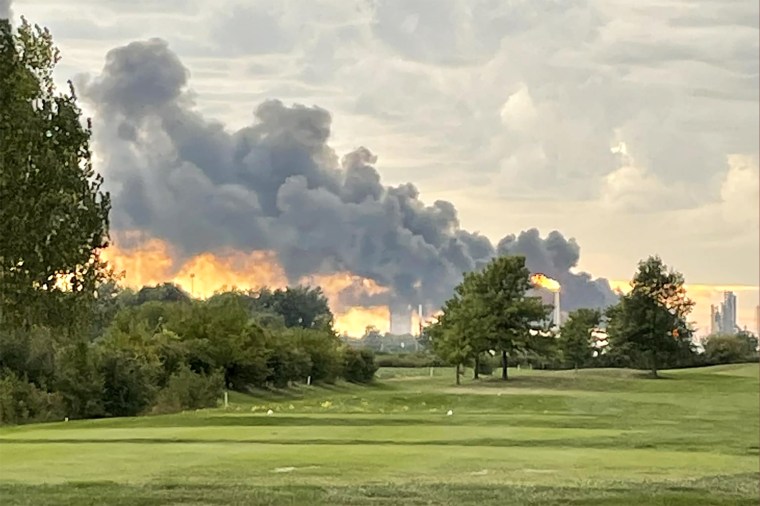 The fire was put out at around 10:15 p.m. Tuesday, the spokesman said. They said the refinery was "safely closed" and remained offline until Wednesday.
"Our top priority remains the safety of our employees, responders and the public," they said.
Andrew Laurell, director of the Lucas County 911 Regional Council of Governments, said it was unclear where the fire was at the plant. It was not immediately clear what started the fire.
The city council, which handles emergency calls in the area, received the first 911 call about the fire at 6:50 p.m., he said.
A fire was also reported at the refinery in November last year. No one was injured in the incident, Toledo-based NBC affiliate WNWO reported at the time.
BP describes the plant as a "cornerstone" of the regional economy, capable of producing 160,000 barrels of crude oil per day, or about 3.8 million gallons of natural gas.
Suzanne Cichalski and Sarah Kaufman contributed.