Ohio State Police have launched an investigation after a 23-year-old truck driver was attacked by a dog after he turned himself in to police.
Driver Jadarrius Rose being chased Ohio On July 4, the State Highway Patrol failed to stop his truck because it was "missing the left rear fender," according to the accident report.
After Rose initially refused to get out of the car, the Circleville Police Department, including a police dog, was called to assist.
Video provided by the Highway Patrol shows Ross standing in front of the truck with his hands raised.
Moments later, the officer released the dog despite another officer calling and telling him: "Don't let the dog go."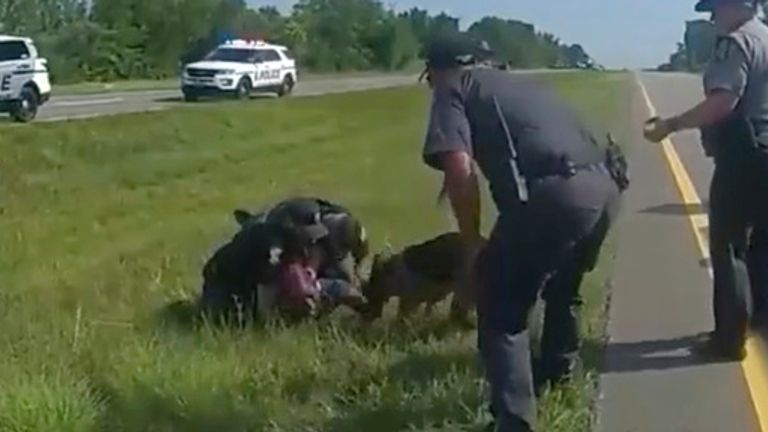 Footage from the body camera shows the dog running towards Ross, where the dog appears to bite him and pull him towards him.
Ross can be heard screaming, "Please take it off". He was later treated in hospital for being bitten by a dog and charged with non-compliance.
The dog handler was identified as Officer Ryan Speakman, according to the Highway Patrol incident report.
A statement from Circleville police did not identify the officer or say whether they would face any disciplinary action.
read more:
Woman found dead after suspected grizzly attack
Photographer comes face to face with mountain lion
The Ross County Sheriff's Office on Monday released an audio recording of a 911 call made by a man believed to be Ross.
In the photo, a man told the dispatcher that the police were "trying to kill" him and that he didn't feel it was safe to pull over.
"Right now I'm being chased by about 20 police officers who are all pointing their guns directly at my truck," Ross said during the two-minute call, according to NBC.
The dispatcher repeatedly told Rose that he should stop and obey the police, telling him that the officers were not trying to harm him.
It was not immediately clear why Ross did not stop immediately.