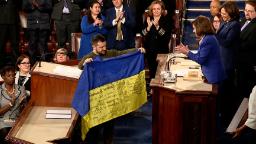 More than 300 days into the war, Ukrainian soldiers are defending their country, but they need more weapons to win on the battlefield, Ukrainian President Volodymyr Zelensky told Congress.
"Here, on the front lines, tyranny – there is no shortage of cruelty to the lives of free peoples – and your support is vital not only to stand your ground in this battle, but to reach the turning point to win on the battlefield," he said.
"We have cannon, yes, thanks. Is that enough? Honestly, not really."
Zelensky said Ukraine was fighting for its "independence and freedom" but called on the United States to continue to support those goals.
"Your money is not charity. It's an investment in global security and democracy that we handle in the most responsible way possible," Zelensky said.
The Ukrainian president is trying to make the case that while the aid is good for Ukraine, it is also in the interests of the United States and other Western allies.
"Thousands of deadly Iranian drones have been sent to Russia and pose a threat to our critical infrastructure. This is how one terrorist finds another. If we don't stop them now, they will attack your other allies just It's a matter of time. We have to do it," he said.
"Ukraine stands firm and will never surrender," Zelensky added.
Watch for a moment: