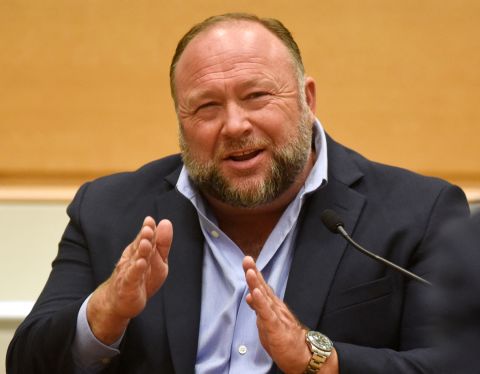 On the witness stand, conspiracy theorist Alex Jones had an explosive courtroom exchange with a lawyer who is suing him in Connecticut for the families of Sandy Hook victims, prompting a judge to admonish them They could be held in contempt of court if they broke the rules, warned. Court rules move forward.
Judge Barbara Bellis issued a warning during the trial that will decide how much Jones must pay the families of Sandy Hook Elementary School shooting victims for lying about the massacre.
The family's lawyer, Christopher Mattei, challenged far-right media sources about his false claims that the 2012 shooting that killed 26 people was a "hoax", prompting Jones to get angry and attack him.
Jones accused Mattei of dishonesty and said he was guilty of "chasing an ambulance" before ranting about "liberals" in court.
Bellis had previously warned Jones that some of his outbursts violated court rules, reminding the Infowars founder that he was in "court" and had to follow her instructions.
"It's obviously not your show and you have to respect the process," Bellis told Jones. "Whether you like it or not, you have to play by the rules."
More context: The shocking incident ended a day of testimony for Jones, who has so far not appeared in a Connecticut defamation trial. The trial comes a month after a Texas jury ruled that Jones and his company, Free Speech Systems, the parent company of Infowars, should award the two parents nearly $50 million.
After the Sandy Hook Elementary School shooting, Jones told his audience without basis that the incident was staged. He has since admitted a shooting took place, but only after filing a lawsuit. He said in 2019 sworn testimony that a "form of psychosis" led him to make false comments.
Read more here.