Video released by police this week showed a gunman following two people before shooting and killing a 17-year-old girl who was walking with friends and a dog on the streets of Philadelphia.
Shortly before 9 p.m., Trin Johnson was shot dead in northeast Philadelphia. On Sunday, police said.
On Wednesday, the Philadelphia Police Department released security video and the first few minutes of the shooting.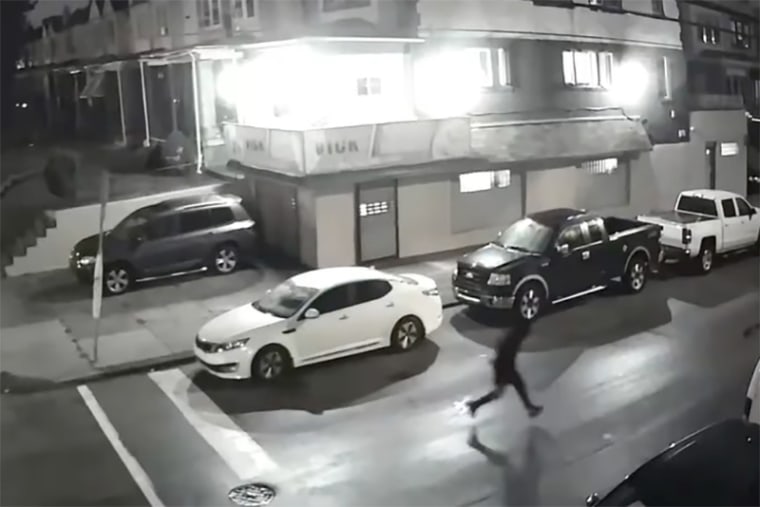 The video shows a dark-colored Dodge Challenger parked in the driveway with hazard lights on as Johnson and another person pass by with a dog.
The video shows the car turning and parked for two minutes until Johnson and friends walk past.
After they did so, a person could be seen running across the road in the video. The video shows the man crouching in the back of the van and looking around.
Video taken from another angle appeared to show the person gesturing to the challenger, who stopped beside him. The video shows the person entering the passenger side and the vehicle traveling a short distance before the car comes to a stop.
Video appears to show a person coming out of the passenger side, opening fire and running back into the car.
Police said the gunman fired six shots, hitting Johnson twice, according to NBC Philadelphia. She tried to escape, but fell.
Another person who was with her was not physically injured, police told the station.
Johnson was taken to Temple University Hospital, where he died, police said.
Police Inspector DF Pace said the victim and the shooter did not appear to have known each other, the station reported. Motivation unknown.
Of the more than 1,700 gun violence victims this year, 164, or 10 percent, were under the age of 18, according to the Office of the Chief Financial Officer.
As of Thursday, there had been 387 homicides in the city, up 3 percent from 376 a year earlier, police department data showed.