People have been urged to delete TikTok from their phones, with the chairman of the UK Foreign Affairs Committee warning that "we are naive about the threat this app poses".
Conservative MP Alicia Kearns said the continued installation of the video-sharing platform would expose users' personal data to "hostile" threats – notably the Chinese government.
Tik Tokowned by Beijing-based ByteDance, has denied handing over such information.
But Ms Kearns told Sky News' Sophy Ridge on Sunday: "It's not worth having this vulnerability on your phone.
"It's the ultimate source of data for anyone with hostility."
Asked whether people using the app should delete it, she replied: "Without a doubt."
Why is TikTok so controversial?
While TikTok is hugely popular, especially among teens, and has more than 1 billion users worldwide, the amount of information it collects from people's phones is a growing concern.
In the UK, Europe, and even the US, where an outright ban is proposedthere are concerns that companies could access the data and hand it over to Chinese officials.
Previously, ByteDance employees had used TikTok data to track down several Western journalists and discover their sources. An update to the app's privacy policy also revealed that some overseas employees had access to user data under specific circumstances.
"Everyone should be concerned about this," Ms Kearns said.
TikTok has consistently dismissed the allegations against it, with executive Liz Kanter telling Ms Kearns' committee in December that the platform had not been asked by China to provide UK user data and would not provide it if asked.
In the U.S, Where TikTok is being sued for alleged privacy violationsthe company insists that it operates independently of ByteDance and that users are safe.
But Ms Kearns told Sky News "we were so naive" and "must take our protection more seriously".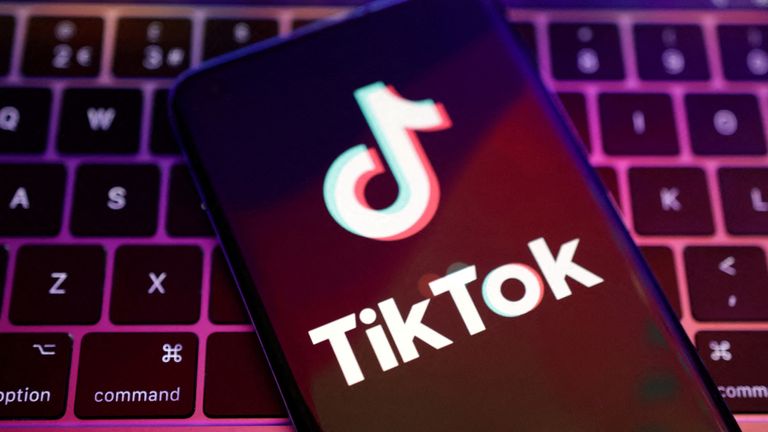 Does TikTok really collect my data?
TikTok knows your IP address, other apps on your phone, and any registration information you provide, such as email address and birthday.
TikTok needs to request permission to access location data and your contacts, but unlike others, TikTok is more reluctant to say no, and will periodically prompt you if you haven't already done so.
In the app, it learns about users through their data and viewing habits, powering a well-known and effective algorithm that generates an endless selection of short videos based on their interests.
It has helped the app become a global cultural powerhouse, with new online trends regularly emerging among its growing user base.
read more:
The Growing Trend of Quitting Quiet Quietly
TikTok's 'lucky girl syndrome' explained
What are "quit loudly" and "anger apps"?
Despite TikTok's popularity, it faces the prospect of a ban in the U.S., where it is already in some schools, workplaces, and the means of congressional politicians.
Democrats and Republicans unveiled bipartisan legislation last year that would ban TikTok across the United States, and the United States' own Foreign Affairs Committee will vote on it later this month.
TikTok CEO Shouzi Zhou will also testify before the U.S. Energy and Commerce Committee in March.
Joe Biden has yet to say whether he would support an outright ban, a nuclear option Former President Donald Trump Triesbut did order government censorship of foreign-owned apps.